Slo-Rid b.v. was founded in 1946 as a welding company based in the city centre of Amsterdam, and specialized in ship repair. In the 60's Slo-Rid b.v. evolved into a machine plant which produced sprockets, spur gears and precision mechanical parts. During the mid-70's the company started to expand its product portfolio by manufacturing hydraulic steering systems for yachts and inland vessels.
A new building was purchased in the 80's and Slo-Rid b.v. invested in modernization by purchasing CNC-machines and using CAD-systems for more efficient production. Slo-Rid b.v. started to produce single plinth container blenders for the pharmaceutical and food industries just before of the arrival of the new millennium, and has been doing this up to present day. These machines have mayor advantages over existing blender solutions such as quickly being able to swap the product that needs to be blended without having to clean the machine itself.
Entering the 21st century the company moved into a much bigger plant in the north of Amsterdam to ensure enough space for the production of the blenders and other products such as sprockets and spur gears. In 2015 the construction of a new, even bigger plant, started at the Back-upstraat and this is where Slo-Rid b.v. has been located ever since it's completion.
---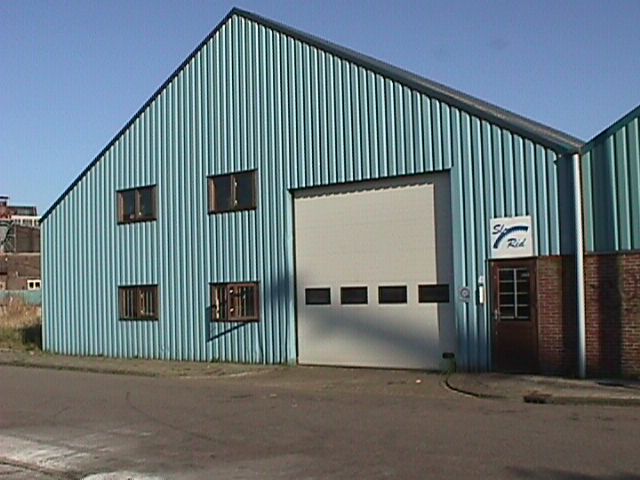 Slo-Rid b.v. was historically located next to the NDSM-Shipyard in Amsterdam.
Our products
Flexibility, quality and service are among the core components of the business and Slo-Rid b.v. takes pride that it has been designing and manufacturing excellence for over 70 years. Slo-Rid b.v. does machining, turning and construction projects for various customers, and creates CAD-designs from specifications that have been supplied by our customers.
We specialize in the production of cogwheels, sprockets and other forms of drive engineering like chain disks and toothed pulleys. The size of these orders varies from single products to larger series.
Slo-Rid b.v. is a leading supplier of single plinth blenders, and these machines are sold to producers of pharmaseutical-, food-, and chemical products around the world. Designing, building, programming and installing these machines is done entirely within our own organisation, and we do maintenance projects and repair of our single plinth blenders as well. Please see the products section of our website for more details and information about our solutions, or get in touch using the following link:
Slo-Rid b.v. has invested heavily into modern CNC-controlled lathes and machining centres to ensure quality and fast production. The machine park currently consists of ten lathes and six machining centres of which one has a five-axis turret. Slo-Rid b.v. also owns two sawing machines, of which one is specialized in cutting tubing material, and four well equipped welding booths which can be used to weld steel, stainless steel and aluminium.
---