Slo-Rid single plinth blenders
Easily controllable, low maintance
General description
Flexibly, efficiency and cost effectiveness are all characteristics that are required for present day production environments to remain competitive in a modern market. A Slo-Rid single plinth blender is ideal for this, since the use of containers allows for parallel processing.
Parallel processing allows several (primary) production processes to be executed at the same moment. This means that containers can be filled, products can be blended and empty containers can be cleaned simultaneously. This decreases your takt time and allows you to operate at a higher Overall Equipment Efficiency (OEE).
Slo-Rid blenders feature a design that has proven its reliability and quality for high demand customers around the globe, while requiring low maintenance.
Your advantages by using a Slo-Rid blender
Great and consistent mixing quality
Containers allow for "per batch" track and trace
Zero risk of product contamination because of the use of closed containers
No cleaning downtime between batches
Perfect for a Lean production environment where SMED is implemented
Parallel processing leads to a high Overall Equipment Efficiency
Quality machines ensure great reliability and longevity
More batches per hours than conventional blenders
Easy to use operator interface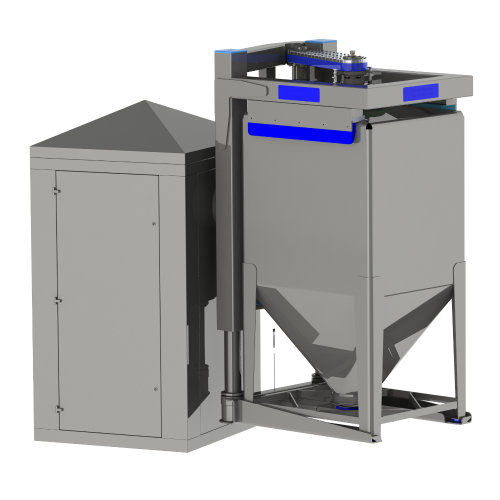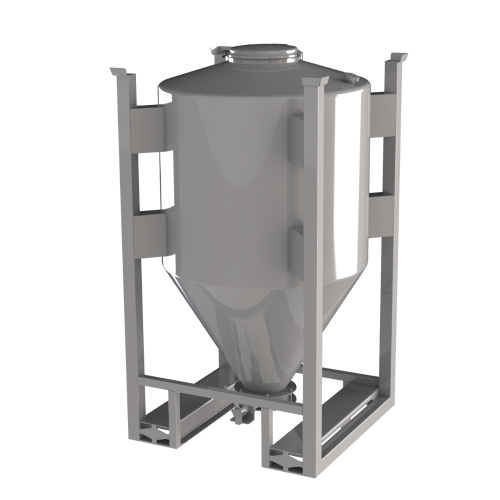 ---
Automation
PLC options and features
Various PLC options can be selected for controlling your single plinth blender. You can either select an Allen Bradley Micrologix PLC or a  Siemens PLC. The control system will be interlocked to the blend room access door by a key interlock system to ensure that the system cannot operate in unsafe conditions. The standard software has functionality for:
3-Level password security for multiple users (Operator, Engineer and Supervisor).
Automatic mode: The use of recipes ensure easy and familiar operation for both new and experienced operators. Recipes can be stored into the memory. The speed and pre-set time can be configured for every recipe.
Manual mode (Raise and lower Cage; Jog Cage at slow speed; Re-orient cage to a vertical position): This mode is used for cleaning the machine or the IBC and alarm recovery.
Programming the PLC
We write, develop and maintain the software for controlling the PLCs by ourselves. Therefore Slo-Rid b.v. is capable of providing a complete solution, and guaranteeing great integration and compatibility between the interface and the single plinth blender.
---
Technical Specifications
Blend Speed
The minimum and maximum blend speed are pre-set and may vary from 4 up to 18 RPM.
Motor/Gearbox
The size of the main drive/gearbox of the blender depends on the volume of the Container to be handled and the density of the product. The maximum fill design capacity is 80%. Motors are available with various outputs such as 1,5/4/7,5/9,2 and 11 kW.
Electrical Specification
The installation is in accordance with EN 60204-1 and meets the rules of the EMC and CE regulations. It is not possible to configure a Single plinth blender in such a way that it contradicts with these regulations. It is possible to select various power inputs from 220 up to 480 Volt, 3-phase and earth, since a neutral is not required. The control voltage is 24 VDC. An IP 54 steel housing contains the main electrical panel which meets the IP 20 certification. An EX area can be arranged according to the clients specifications. ATEX compliant.
Range of containers
The blender can be engineered for a wide range of containers varying from 10 up 3500 liter of volume of various container manufacturers. The blender is designed for one type of Container with a maximum product density to blend. Both a standard and a heavy-duty blender can be configured: A standard blender features a maximimum loading capacity of 1200 kg while a heavy blender features a maximum loading capactiy of 5000 kg, this includes the weight of the IBC. It is possible to blend in various sizes of containers, depending on the external dimensions of the specific IBC.
---
---
Lump Breaking System
The Lump Breaking System (LBS) is amoungst the modules which you can select to upgrade your single plinth blender. The LBS consists of a set of stainless steel blades spinning inside the container at 1200 revolutions per minute which break up any lumps or chunks in your product, assuring that it is homogeneous, and thus improving the quality for you and your customers.
---
Circular container compatability
When configuring your single plinth blender you can select a blender specially configured to be used with round containers. These blenders feature an angeled engine and engine shaft for optimal blending performance.
---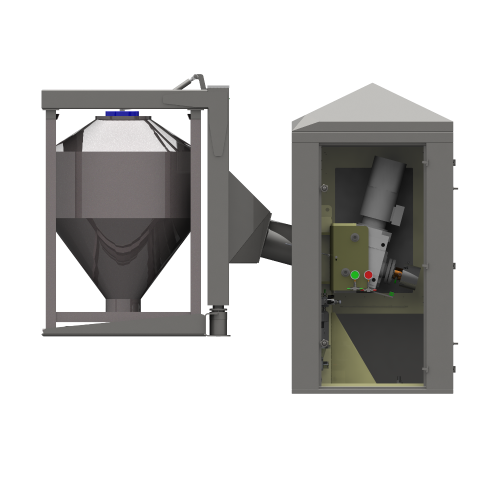 Automatic liquid addition
Our automatic liquid addition module is capable of adding liquids and oils to products during the mixing proces, which is essential in certain environments, such as when producing spices for food.
---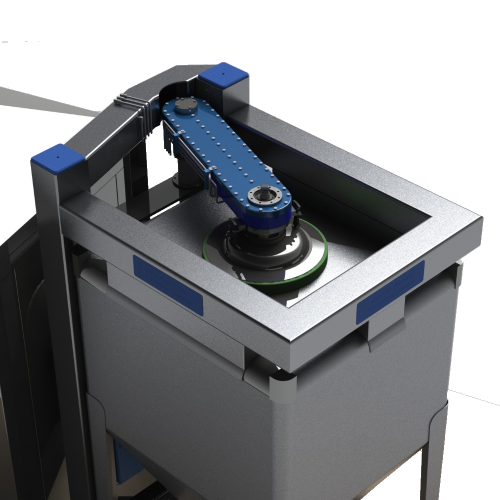 ---
Your Single Plinth Blender
Documentation
For optimal continuity of your internal processes you will recieve a comprehensive collection of documents and manuals. These documents are in English, in compliance with cGMP and consist of the following:
Material Test Certificates
Operation and maintenance Manual
Installation/Planning In Drawing
Electrical Circuit Diagrams
Floor load calculation
A catalogue of recommended spare parts, with their corresponding prices
Functional Design Specification
Factory Acceptance Test
Installation and commissioning
We provide Installation and the Commissioning on site, as well as training for operatives and supervisors for the Single plinth blenders.
Big performance in a small package
Slo-Rid b.v. also offers a labscale version of their bigger single plinth blenders. These small blenders are perfect for laboratories and R and D divisions since they allow the user to quickly produce small batches, powering you to be ready for the future, faster. These labscale blenders are a highly flexible solution with the familiair blending characteristics and user interface of it's bigger counterpart, and are a perfect companion since they can be used to produce pre-mixes of active particles which can later be used in the full-size machines.
Features and specifications
Improved safety with our tri-cover system using door interlocks
Can be powered by any conventional 220-240 volts power outlet
Purposely built cart for easy loading and unloading of containers
Containers come in 10, 50 and 100 liter sizes and offer good flexibility since they work on any Slo-Rid b.v. Labscale blender
Blend speeds of up to 50 revolutions per minute
The wheels under the machine allow for great mobility
Easy and familiar operation using the same interface as the full-scale single plinth blenders